WE'VE LOVED EVERY MINUTE
40 YEARS
OF FLIGHT
FAMILY-OWNED AND OPERATED FOR OVER 40 YEARS, OUR MISSION IS TO SHOW VISITORS FROM AROUND THE WORLD THE SPLENDOR OF KAUAI.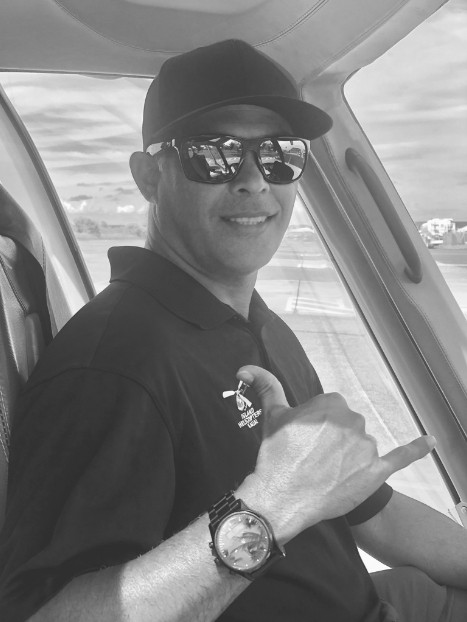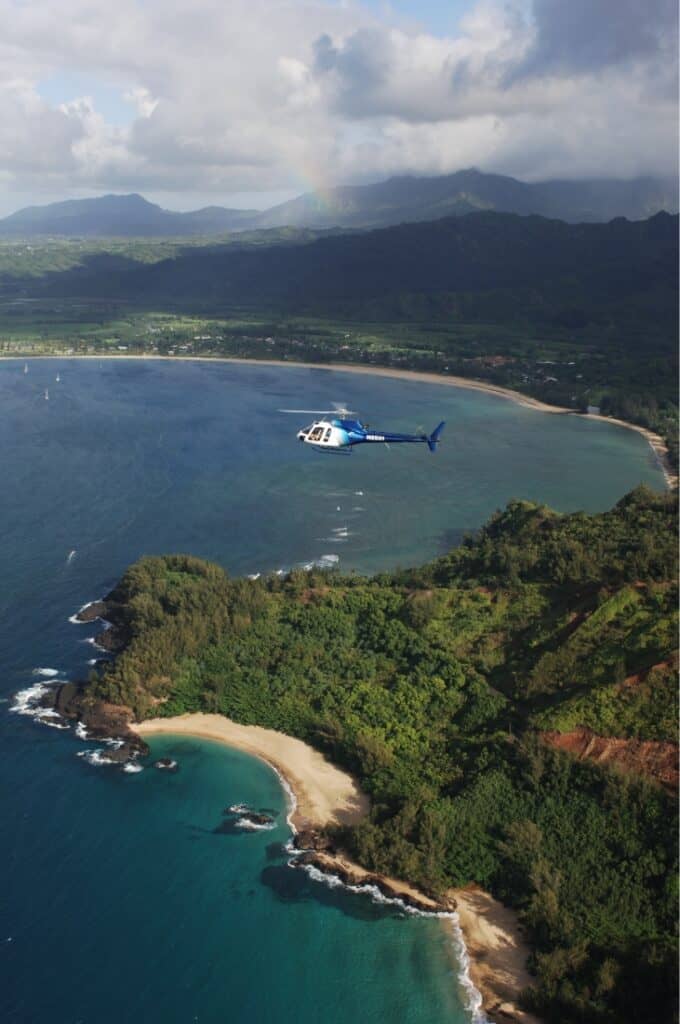 ABOUT US
GLIDING HIGH SINCE 1980
Island Helicopters Kauai, Inc. has been providing deluxe helicopter tours from the Lihue Airport longer than any other company. It is the only company on Kauai permitted to land at a waterfall during a helicopter tour, and that is the best helicopter tour on Kauai. All of Island Helicopters' highly skilled professional pilots have thousands of hours and numerous years of flying experience.
Island Helicopters' fleet of six-passenger, Airbus (formerly Eurocopter) AStar helicopters boast paramount viewing opportunities with custom ceiling-to-floor windows. Due to Kauai's daily variable weather conditions (i.e. temperature, humidity, precipitation, wind), the company elects to fly "doors-on." Because of this, tours are quiet, safe, climate-controlled, and provide spectacular views.
Island Helicopters owners Curt and Bonnie Lofstedt employ a staff of 18 (on average), some of whom have been with the company for over 30 years! All of the company's pilots and employees reside on Kauai with their families. Both Island Helicopters and all of the pilots are FAA Certified Part 135. Curt personally selects and trains every one of its exceptional pilots, all of whom have excellent safety records and thousands of hours of flying experience.
Curt and Bonnie have kept the company small by choice, but the standards are always the highest. The safety, comfort, and satisfaction of each customer are the main concerns. Since 1980, Island Helicopters has specialized in providing personalized tours for the independent traveler, for families, and groups of all sizes, best helicopter tour Kauai. With the majority of this picturesque island unreachable by car, a helicopter tour is the most ecologically friendly way to see one of the most beautiful places in the world in its entirety.
OWNERS
LIFE IS A RIDE
Curt and Bonnie Lofstedt, owners and operators of Island Helicopters Kauai, Inc., are long-time island residents with a home in the town of Kalaheo. Curt has been flying tours of Kauai for over 40 years and still "loves every minute of it." He is one of the State's highest flight time helicopter pilots with nearly 30,000 hours. His experience dates back to high school, receiving his pilots' license even before his drivers' license. After he attended college in Oregon, Curt flew helicopters in Vietnam, then for the construction of the Alaska Pipeline, and finally on to Hawaii for tours.
While attending college at the University of California, Berkeley, Bonnie spent her summer vacations working as a kids' camp counselor at Kahili Mountain Park on Kauai. Bonnie would frequently hike the Na Pali Coast or Waimea Canyon with her campers, and at the end of the day, a chartered helicopter (Curt) would land and fly Bonnie and the campers back to camp. After dating for a couple of years, Curt proposed to Bonnie on a beach at sunset. And now, 40+ years and three children later, they continue to live and work on the island of Kauai and enjoy spending time with their four future pilots (grandchildren).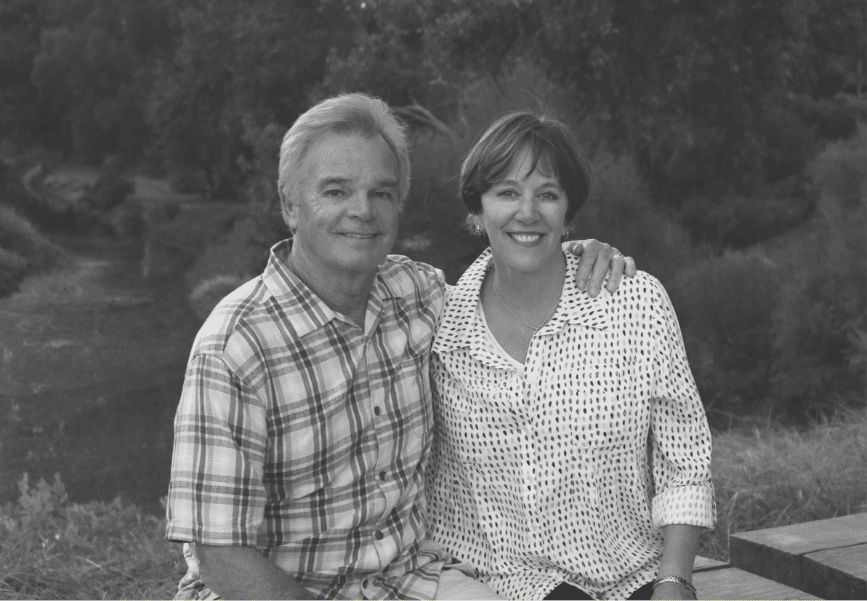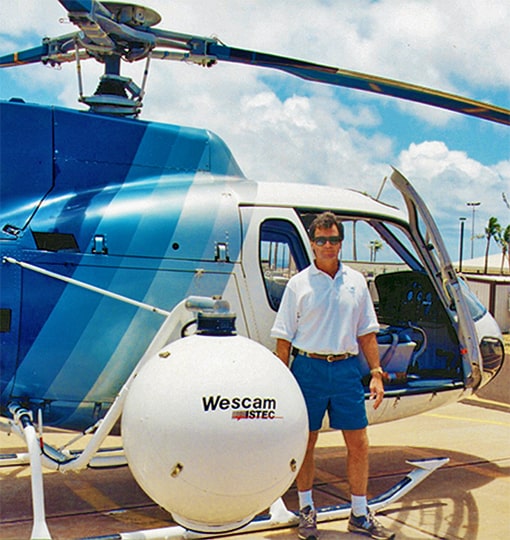 A camera hooked up to one of
our helicopters for the filming
of Jurassic Park.
MOVIES
CINEMATIC
HISTORY
Island Helicopters has been very involved with the movie industry, participating in the filming of such Hollywood movies as Jurassic Park, Tropic Thunder, Dragonfly, King Kong, Raiders of the Lost Ark, Six Days Seven Nights, and 50 First Dates, to name a few. Filming companies contact Island Helicopters first because of our years of experience and expertise in the industry. Curt has been flying aerial photography and support for over 40 years in Hawaii and is widely respected throughout the motion picture industry.
LOCATING PERFECTION
THE JOURNEY
TO JURASSIC
Prior to the filming of the movie Jurassic Park, Island Helicopters was approached by the production crew to assist in scouting for shooting locations for the film. Well respected for his flight experience in the movie industry, Curt was asked to find an "awesome" location where the movies' helicopter would land and introduce the cast of characters to Isla Nublar (aka Jurassic Park). As family friends of the Robinson family, the fall's private owners, Curt had landed at the base of Manawaiopuna before. He had experienced the power of this unique natural landmark and knew it would be exactly what producers were looking for. As the helicopter approached the nearly 400-foot waterfall, the location director screamed, "That's it; it's PERFECT!"
After being highlighted in the blockbuster movie, Manawaiopuna quickly gained the nickname, "Jurassic Falls." Located deep in the lush Hanapepe Valley, air tours have been flying above the picturesque waterfall for decades, but access by foot had always been restricted to family and friends invited by the Robinsons. After five and a half years of navigating the Kauai Planning Department's permitting process, numerous environmental impact studies, and receiving sole permission from the Robinsons, Island Helicopters was approved to offer the ONLY waterfall landing on Kauai, the Jurassic Falls Landing Adventure.